Investment thesis
Although John Wiley & Sons, Inc. ((NYSE: WLY)(NYSE: WLYB)) surpassed the $2 billion annual revenue threshold, weak student enrollment and an expected economic slowdown are weighing on the overall outlook for fiscal year 2023. With more than 215 years in business and 28 years of consecutive dividend increases, the company is well positioned to meet these challenges. It plans to remain focused on its core business of developing education for students and career-focused corporate clients, reduce mergers and acquisitions activity, and expand its open publishing footprint. Investors who want to invest in a company that has successfully weathered the turbulent market environment in the past should consider investing in WLY and WLYB.
Background
John Wiley & Sons, Inc. is one of America's oldest brands, starting operations in 1807. The company's revenue now exceeds $2 billion a year, 83% of which is digital, technological and 58% recurring. The company also offers more than 1,900 valued journal brand publications, digital content tutorials, technology-focused degree programs, and on-the-job training. The company's organic revenue is growing at a rate of approximately 5% per year. The company is particularly well placed to capitalize on the continuous increase in annual R&D expenditurewhich has tripled over the past two decades, from around $726 billion to $2.4 trillion.
Business Headwinds
The main headwinds at John Wiley & Sons, Inc. are:
Weak university enrollment is reducing the company's core student body.
Students and teachers continue to be impacted due to COVID-19 related lockdowns in various geographies.
Geopolitical instability persists in various regions where the company operates.
The shift from print to digital content has cannibalized print revenue from students, schools, and universities.
With 50% of revenue generated offshore, exchange rate headwinds affect the bottom line due to the continued strength of the dollar against rest of the world currencies.
Favorable Winds for Business and Growth Catalysts
The tailwinds associated with the business are:
Attract more clients by offering career-focused training.
Attract more enterprise talent development customers who subscribe to multiple services simultaneously. This segment grew at a rate of 70% year-over-year in 2022.
Expand the production of research publications by leveraging the Hindawi open publishing platform (acquired in 2021).
Strategically focus on expanding the publications portfolio to include high-demand jobs and careers.
Continued development of direct marketing to students via XYZ Media (acquired in 2021).
Review of Fiscal 2022 Results
John Wiley & Sons, Inc. closed its 2022 fiscal year on June 15, 2022. Here are some highlights from the earnings call:
The company beat profit estimates by 11% and revenue by 1.75% year-on-year.
The company plans to maintain its level of investment in current products but slow the pace of acquisitions until the macro fundamentals improve.
The anticipated EBITDA will remain around 12 to 15%.
The company's debt-to-EBITDA ratio is 1.6, down from last year's level of 1.7, and management is committed to maintaining that ratio at 1.6.
The company also continued its 28-year trend of increasing dividends, yielding around 2.6%.
Share buybacks accounted for approximately $30 million of the company's cash outflow, with up to $200 million authorized.
Projections for fiscal year 2023
At constant exchange rates, John Wiley & Sons, Inc. expects the following starting in fiscal year 2023:
The company's revenue growth of approximately 5% was primarily driven by incremental revenue from organic sales, search segments and enterprise customers.
EBITDA is expected to be around $425-450 million, remaining relatively stable for fiscal 2022.
EPS is expected to decline to $3.70 to $4.05 from $4.16 in fiscal 2022.
Q12023 results are expected on 09/01/2022 and management is expected to provide updates to its projections. Additionally, an Investor Day is scheduled for 2Q2023, where management will provide guidance on the future direction of the business.
Assessment Update
With strong macro headwinds, currency impacts, single-digit growth, mild EBITDA compression and lower EPS, John Wiley & Sons, Inc.'s price target was lowered by around $80 per share to around $62 per share, as shown below.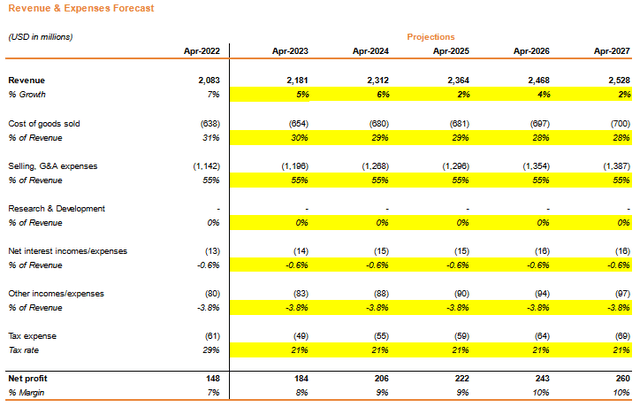 Investment risks
The main risks to the company's operating plan are moderating consumer spending for 2H2022 and 2023. If this scenario materializes, the cyclical listing challenges facing the company will worsen, revenues will decline, EBITDA margins will compress further and EPS will be weaker. . In response, management has issued guidance addressing some of these risks. He is fully committed to monitoring the situation closely and making the necessary adjustments to achieve the projections.
Conclusion
Over the past five years, John Wiley & Sons, Inc. has shifted a significant portion of its business toward capitalizing on lucrative career development, corporate talent development solutions, offering programs leading to a diploma and direct marketing to students. The company has also expanded its presence to open publishing. Although the company faces short-term headwinds, with a 215-year operating history and 28 consecutive years of increasing dividends, WLY and WLYB are good choices for investors with any time horizon. .